The game industry generated over $130 billion in 2018, and it's only growing. While many focus on the mobile market, a Massive Multiplayer Online Virtual World could dwarf everything else. 
The game industry now is like the pre-iPhone mobile market. Except an iPhone level game would be much more profitable, have highly invested customers, and dominate any competition.
I'm James O'Connor. I created Esc Realities to make that Juggernaut game. 
Investors, partners, talent, and job offers welcome.
Luck, Karma and Permadeath
Tartarus is a dangerous world. Sometimes there are no do-overs. ART features permadeath, meaning there is no respawning. That being said, it won't be that easy to die, and this is the future, medical technology has advanced incredibly. Serious wounds can be healed with Nanite Patches. Medics can use Bio-manipulator panels to perform surgery without cutting into their patients. Limbs can be cloned, consciousnesses stored and transferred to mechanical bodies.
Still, technology has it's limits, and who will save you when you're the medic? Fortunately you are a lucky guy/gal/sentient machine! Players start out with a finite amount of Luck, and a replenishing cash of Daily Luck. Luck can reduce fatal injuries to wounds, make you extra hard to hit for a while, or get you out of a deadly situation. Use it wisely though.
What about when your luck runs out? See permadeath above. Death isn't the end though. As you've played you have unlocked skills and equipment categories, and earned Karma. Karma will allow you to create a new character with more starting cash and higher level skills if you've unlocked them. As the game isn't limited by character levels you'll be able to jump back in where you left off.
Putting the idea of a Massive Multiplayer Online World on hold for now, Esc Realities is proud to introduce our next project. RPG Commander!
RPG Commander will be a platform for all your RPG needs. A multi-phase project, with each phase building on the previous one.
Phase One: A Low-Poly, 3D, fully animated online virtual "Table Top" RPG platform supporting community maintained rulesets for multiple systems
Phase Two: A multiplayer turn-based RPG platform featuring Player-Created Content
Phase 3: A realtime combat version of the RPG
The goal is to create a streamlined experience, automating all of the rules, and management, to let the players focus on having fun in an immersive environment.
Stay tuned for more info on Phase One, which we are tentatively calling RPG Commander: Realm Weaver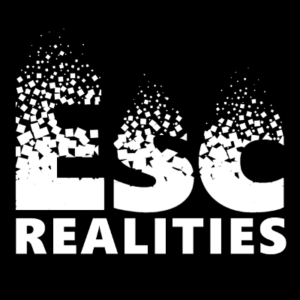 Esc Realities was created from the desire to see the quality of games advance.  A passion project for the love of games! The original project that started it all, a Massively Multiplayer Online World, was a bit lofty of a goal.  The new Project, RPG Commander, is a bit more down to earth.
With that change of focus, the site will be updated to shine the light on RPG Commander. There will still be conversations about the MMOW (a more expansive MMORPG), but more on the ideas behind the concepts, and their practicality. The desire to see that game come alive is still there.
It's still a passion project, I hope you will follow Esc to see how things progress!
Concepts
Concepts for the MMORPG Alien Ruins of Tartarus. I believe Science Fiction should be pretty scientific. I also believe that any good SF game needs some non "human" characters. My hybrid concept allows for a large variety of alternatives with a built in explanation for their similarity to humans and why they speak the languages of Earth. The aliens in the game will be just that, alien.